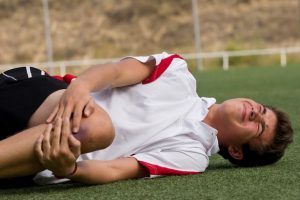 Way back in the day, kids played multiple sports. The trend now is it play one and get the best you can at it. Most sports now find a way to play all year 'round. A new study published in The American Journal of Sports Medicine has found that this new one sport phenomena is leading to more knee and hip injuries because kids need breaks in competition to heal. Sports and exercise are great for kids and adults but anything done too much can start to wear down the body. 
Specialized Sports Study Findings
300 athletes studies at two high schools (a large school and a small school) showed that about 36% of the athletes had high levels of sports specialization.
Kids in small schools specialized less than kids in larger schools.
Kids with high specialization reported more knee and hip injuries.
Advice From The American Academy of Pediatrics…
Take Time Off –  Plan to have at least 1 day off per week and at least one month off per year from training for a particular sport to allow the body to recover.
Wear the Right gear – Players should wear appropriate and properly fit protective equipment such as pads (neck, shoulder, elbow, chest, knee, shin), helmets, mouthpieces, face guards, protective cups, and/or eyewear. Young athletes should not assume that protective gear will prevent all injuries while performing more dangerous or risky activities.
Strengthen Muscles – Conditioning exercises during practice strengthens muscles used in play.
Increase Flexibility – Stretching exercises after games or practice can increase flexibility. Stretching should also be incorporated into a daily fitness plan.
Use the Proper Technique – This should be reinforced during the playing season.
Take Breaks – Rest periods during practice and games can reduce injuries and prevent heat illness.
Play Safe –  Strict rules against headfirst sliding (baseball and softball), and spearing (football), and checking in hockey should be enforced.
Stop If There Is Pain
Avoid Heat Injury – Drink plenty of fluids before, during and after exercise or play; decrease or stop practices or competitions during high heat/humidity periods; wear light clothing.
Contact Us (859-525-8181) if you have any questions!
—
About Pediatrics of Florence
We believe that children are more than just "little adults." They have unique personalities, challenges, and life circumstances and we have made every effort to make our offices and care as "kid friendly" as possible. We have an aquatic theme in the waiting rooms (separated for sick and well children) as well as themed examination rooms. All of our physicians are Board Certified Pediatricians and members of the American Academy of Pediatrics and our nurse practitioners are all licensed Pediatric Nurse Practitioners and are available to see both well and sick children.
>> More About Pediatrics of Florence