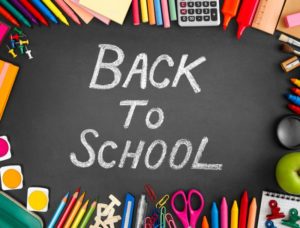 Back to school is an exciting and potentially stressful part of the year for both parents and children. Here are a few quick tips to make sure you start the year off right:
Sleep is Key
From infants and toddlers to school-aged kids and teens, parents want to know how many hours of sleep are recommended. While every child's sleep needs will vary slightly, a good rule of thumb is that elementary school kids require around 10 to 12 hours per night, and middle school or high school students usually need 9 to 10 hours. The same waking time, meal times, nap time, and play times will help your child feel secure and comfortable, and help with a smooth bedtime. For young children, it helps to start early with a bedtime routine such as brush, book, bed. Make sure the sleep routines you use can be used anywhere, so you can help your child get to sleep wherever you may be. To find the perfect bedtime, just figure out what time they need to wake up in the morning and work backwards. If you can adjust bedtime by 15-30 minutes per day to get there, it may ease the transition.
Medication and Forms
If your child has any conditions that require medication at school (diabetes, asthma, allergies, ADHD, etc.), ensure that they have enough medication for home and school. Verify that nothing expired over the summer and check that any forms the school needs are completed by your doctor and turned in to the school nurse.
Sports Physicals
With more than 46 million kids participating in sports each year, making sure your athlete is okay to play is the first step in getting ready for the big game. Did you know that 62 percent of all organized sports-related injuries happen during practices rather than games? Sports physicals are largely required by athletic leagues and schools − and for good reason. They raise awareness of any issues that may interfere with your child's ability to participate in a sport. For children who will be playing sports, make sure you have an up-to-date sports physical on file with the school. Sports physicals are best done by your pediatrician or family doctor, as they know your child's history–there's a little more to it than checking a box. Unfortunately, a lot of urgent care or pharmacy-based clinics miss the point. Don't let procrastination keep your kid on the sideline.
Kindergarten and Seventh Grade Immunization Requirements
Students going into kindergarten will have to get an additional two doses of the vaccine against chicken pox. For those going into seventh grade, a TDaP, or tetanus vaccine, and a meningitis vaccine will be required. Make sure your child's immunizations are up-to-date. Diseases can spread quickly in a crowded classroom environment, and vaccines are a safe and effective way to prevent this.
Stressful Time
The saying goes that the first day at primary school is more traumatic for the parent than it is for the child. However, a new study from Bath University suggests that this is far from true. Researchers have found that children have high levels of the stress hormone cortisol up to six months before their first day at primary school, rising significantly when school begins and not dropping for up to six months after their first day. School changes can be a stressful time. It's normal to experience a meltdown or two, but if your child seems excessively worried or stressed, it may be a good idea to bring it to your doctor's attention.
Last Years Performance
Children can struggle academically for a wide variety of reasons, so identifying these problems early and working with the school and your pediatrician to address them is vital. "We don't need to apply pressure to get kids to perform," says Karen DeBord, PhD, a child development specialist for the North Carolina Cooperative Extension Service. "Building on children's inner motivations is most important. Instead of paying kids a dollar for an 'A,' tell them how proud you are of them. Hopefully by addressing any problems quickly, you can start the year off right.
Contact Us (859-525-8181) if you have any questions!
—
About Pediatrics of Florence
We believe that children are more than just "little adults." They have unique personalities, challenges, and life circumstances and we have made every effort to make our offices and care as "kid friendly" as possible. We have an aquatic theme in the waiting rooms (separated for sick and well children) as well as themed examination rooms. All of our physicians are Board Certified Pediatricians and members of the American Academy of Pediatrics and our nurse practitioners are all licensed Pediatric Nurse Practitioners and are available to see both well and sick children.