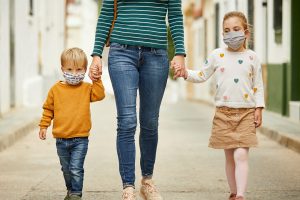 We have received a high volume of calls at the office regarding the school masking
mandates and requests for mask exemption notes. At Pediatrics of Florence, we are not
a fan of masks or the mandates either, but as healthcare workers we have been
required to wear masks every day for over a year.
We Have Witnessed Anxiety, Depression, and Mental Health Problems In May Patients Who Weren't Attending School In Person
When children had to attend school virtually from home last year, we saw a huge
increase in anxiety, depression, and mental health problems. The goal for all of us
should be that we need to keep children in school at all costs. Unfortunately, for the time
being, this means wearing masks.
In-Person Learning and Extracurricular Activities Are Extremely Important For Children
While we wish that no one had to wear a mask, the inconvenience of masking increases
the chances that kids can stay with in-person learning and extracurricular activities. For
this reason, we will not provide mask exemption letters unless there is a medical
diagnosis that contraindicates mask wearing.
If there any changes to our masking policy, we will notify patients.
Thank you,
Pediatrics of Florence
—
About Pediatrics of Florence
We believe that children are more than just "little adults." They have unique personalities, challenges, and life circumstances and we have made every effort to make our offices and care as "kid friendly" as possible. We have an aquatic theme in the waiting rooms (separated for sick and well children) as well as themed examination rooms. All of our physicians are Board Certified Pediatricians and members of the American Academy of Pediatrics and our nurse practitioners are all licensed Pediatric Nurse Practitioners and are available to see both well and sick children.
>> Learn More About Pediatrics of Florence